In today's digital age, artificial intelligence (AI) has become an indispensable asset for various industries, and eCommerce is no exception. With the capacity to analyze vast volumes of data and make intelligent predictions, AI has revolutionized the landscape of online businesses. In this comprehensive guide, we'll delve into 12 practical and innovative AI tools that can significantly enhance your eCommerce operations, increase productivity, and propel your business to new heights.
1. Describely
Describely promises to create product descriptions on your behalf. The descriptions are SEO-focused, to help your ranking in the search results, and describely can even write to the requirements of platforms like Amazon and Etsy.
And it's not just product descriptions that Describely writes, but also meta tags, email subject lines, ad copy, and captions for social media. It can even rewrite your existing content and create blog templates.
2
. Descript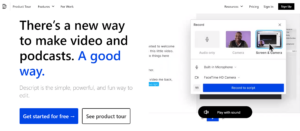 Descript is a powerful AI tool for every eCommerce store that wants to improve sales and increase conversion.
It is used to create captivating video content for your store. Also, one of the best video editing AI apps for your eCommerce store. Interestingly, its focus is not on video alone but on the entire workflow such that it can capture, edit, and share your screen recordings.
It can also be used to repurpose your content into short clips using the available templates. Descript is also used for transcriptions and audio edits that are used for podcasts. Moreso, you can host and publish your content in a Descript embeddable player.
3
. ViSENZE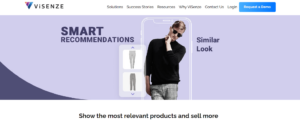 Visense is an AI software that makes product discoveries easy for online store owners, making it easy to achieve your business goals. This app provides online store owners with the best product discovery solution to increase revenue.
It utilizes smart recommendation and machine learning to display products that your customers will likely want to buy. This helps to lessen the time customers spend searching for the product they are looking to buy.
Furthermore, this App makes it easy for you to import product catalogs from third-party websites.
4
. Rebuyengine – The Commerce AI Company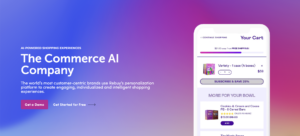 Personalization is the buzzword in e-commerce, but it's a challenge to get it right. That's where Rebuy Engine steps in, offering a groundbreaking solution powered by AI.
Rebuy Engine's strength lies in its Intelligent Personalization features. It empowers you to create tailored shopping experiences for each customer by leveraging your store's historical shopping data. This not only boosts conversion rates but also enhances customer engagement and increases the average order value (AOV), providing shoppers with a hyper-personalized journey.
The app excels in AI-driven upselling and cross-selling strategies precisely at critical decision points, further elevating your store's AOV. Moreover, Rebuy Engine conducts in-depth analysis of your customer database to generate intelligent product recommendations, ensuring exceptional customer experiences across various channels, including online, mobile, and email.
Rebuy Engine leverages real consumer data to establish predictive personalization and offer advanced recommendations at scale. Here are some of the benefits of the Intelligent Personalization feature:
Customizes the user experience for each visitor (based on historical shopping data from the store)
Show products frequently purchased together on the cart, checkout, and PDP pages
Create highly tailored and context-aware recommendations depending on factors like device kind, location, day and time, campaign, email, and more
Promote best sellers, new products, and recently viewed and recommended products right from the homepage based on customers' browsing history
If anything, Rebuy is an all-in-one eCommerce solution with many features. Let us look at some of the app's most notable features.
Intelligent Personalization
Smart Cart
Upsell & Cross-Sell
Post-purchase Offers
Automated Retention
Marketing Links
Rebuy Engine stands out as a groundbreaking solution for e-commerce personalization, but it's important to note that it exclusively caters to the Shopify platform.
5.
Maverick
If you've ever wished you had the time to send all of your customers a video to welcome them or say thanks for buying from you, Maverick is for you.
You record a single video with the message you'd like to send, and Maverick then personalizes it for every recipient. You can also record multiple videos, to be used at different stages of the customer journey—like recovering abandoned carts.
Simply record the video and a script, and let Maverick get to work. It even integrates with other platforms including Omnisend.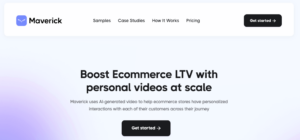 6. GrowthBar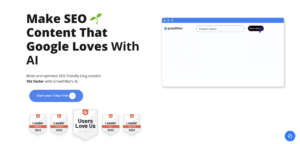 GrowthBar uses GPT-3 AI to automate content generation. It can suggest keywords, exact word count, links, images, and more. The tool is capable of providing extensive backlinking as well as creating blog post content outlines. There's also a Chrome extension available.
GPT-3 AI technology was developed by OpenAI, a company co-founded by Elon Musk. It's the first AI tech that has passed the Turing Test, which ensures that the written copy would sound as humanlike as possible.
Best Features:
Search Engine Optimization
Paragraph Generator
Meta Generator
AI Blogging Tools
7.
Patterned

Struggling to find the perfect pattern for your product? Enter Patterned: with its AI pattern maker, you're able to generate an unlimited amount of designs, completely unique and customized to your product. Each one is royalty-free, too.
The process is simple: input some keywords and the AI pattern generator gets to work. You can tell the tool's specific themes—like "flower" or "leaves"—and a style, such as "abstract".
It's also possible to give it an artist's name you love the work of and request things like fine or bold lines, subtle colors, or high contrast.
Once it presents a pattern that you love, you add it to the product for a virtual rendering, like this: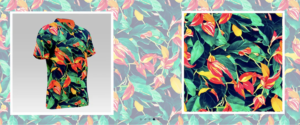 8.
Signifyd Fraud Protection and Revenue Optimization
Signifyd is an end-to-end Commerce protection platform built to streamline order fulfillment, maximize conversions, and automate customer experience by eliminating fraud and abuse. In a nutshell, it promises to increase conversion rates by removing friction in the buying process.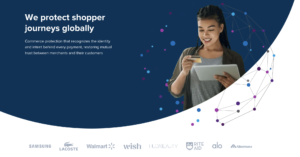 Key Features:
Provides a financial guarantee in cases of item-not-received (INR) claims and offers an automated Chargeback Recovery product
Leverages big data, machine learning, and expert manual review to provide a 100% financial guarantee against fraud
Streamlines the order review and fulfillment process with automation and custom workflows
Cost: Although Signifyd includes a 14-day free trial, it is best suited for high-volume stores, with paid plans starting at $1,500 per month.
9. ChatGPT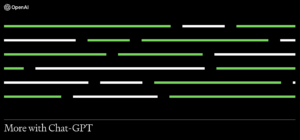 When it comes to AI tools that revolutionize content writing and product description tasks, one name stands out at the forefront: ChatGPT. This pioneering tool has ushered in a significant transformation across various domains, including content creation.
ChatGPT empowers business owners to accomplish a wide range of tasks with ease, such as:
Crafting a unique and memorable name for your store or business.
Writing compelling articles and product descriptions.
Crafting engaging posts and captivating advertising content.
Providing professional translation services.
Generating inspirational marketing ideas for your products.
In the screenshot below 👇, we present an example of how ChatGPT can be used to create an enticing product description. You'll notice that the tool requires specific commands and information to generate a fitting description.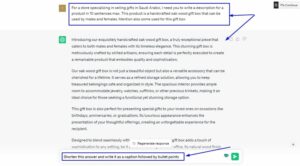 We've included the necessary details, including:
The product description itself (a handcrafted oak wood gift box)
The target market (Saudi market)
The target audience (men and women)
You can provide additional information, such as box dimensions or instructions for use. You can also give the tool more instructions to regenerate the response in a better way.
10. Syte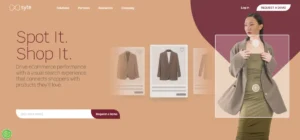 If you need help with product discovery, you can check out Syte. It's a great tool for brands, marketplaces, and retailers of all sizes selling jewelry, home decor, and fashion specifically.
Powered by visual AI, it helps customers to find the products that they're looking for faster, helping to improve conversions, average order value, and lifetime value. For example, for Coleman Furniture, they managed to increase the conversion rate by just over sevenfold.
Moving forward, customer experience is only going to matter more and more to consumers. With Syte in your tech stack, creating premium experiences becomes much easier.
Much of this is thanks to its hyper personalization. Using session data and visual AI, you can share very relevant product recommendations. For example, if you operate in the home decor niche, you can use Syte to showcase similar products to those that are out of stock. Another way that it can drive sales is by suggesting accessories that will work well with a room.
If you do get stuck, the Syte team has been highly praised online. Not only will they enhance your customer's journey, but they also make a concerted effort that your own user journey is seamless.
Key features include:
Sophisticated personalized recommendations
Image search
Automated product tagging
Thematic tags
Deep tag analytics
11.
AI-Powered Chatbots – Zendesk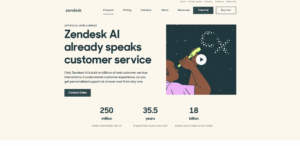 Chatbots are one of the most popular AI implementations in the eCommerce industry. In 2022, 58% of B2B and 42% of B2C companies actively used chatbots. 88% of online shoppers had at least one conversation with a chatbot, and 69% were satisfied with their last interaction.
As customer service representatives, AI chatbots use the Natural Language Processing capabilities of large language models to deliver a customer-centric search experience. Implementing AI chatbots into support channels or shopping carts makes customer engagement more effective, improving the online shopping experience.
ChatGPT, Zendesk AI, and Dialogflow are some of the best AI chatbots that provide a full-scale customer support solution for major companies like Stripe, Twitter, and Microsoft.
12.
Social Media Posts and Updates
Like email marketing, social media marketing requires significant time and energy. Social media AI tools make maintaining a consistent posting schedule across multiple platforms easier, encouraging user engagement and conversion opportunities.
FeedHive and Buffer are social media management AI tools for content production, repurposing, and posting automation. Meanwhile, tools like Lately and Emplifi generate analytics to determine the best time to post for maximum engagement.
---
Bonus Tool –

Unbound

We've looked at several platforms and you might think that it would be great if there were a single, all-in-one AI tool for ecommerce. The creators of Unbound had that same thought.
It doesn't offer the same functionality as every tool in this article, but it can write blogs and product descriptions, generate endless product photos against different backgrounds, create logos and icons, and turn real photos into digital avatars. If those are the main features you need, you might find using this platform saves you paying for three separate ones.
---
In the ever-changing realm, embracing AI tools for eCommerce has rapidly become the norm. Many are ready for smooth integration, enhancing their value through complementary features. Simultaneously, specific tools require more time and resources for optimal alignment.
However, their primary objective remains consistent: to improve your product's efficiency, minimize unproductive efforts, and foster financial growth. Recognizing that these examples of AI in eCommerce have the potential to enhance your product's performance is crucial. They can optimize operations, aiding in financial success.
At Arounda, we sincerely believe in the power of AI. We use these tools daily and engage in projects that involve AI solutions.
So, get in touch with us at Arounda for expert guidance and support in integrating AI into your eCommerce venture.